Table of Contents
Curing Frizzy Hair
Hair is often characterized as "frizzy" when it is flyaway and difficult to maintain. Frizzy hair is also extremely thick and prone to sticking out from the head (especially when exposed to water or humidity). Living with frizzy hair may be a never-ending struggle to keep oneself looking decent. Nothing says "uncontrollable" and "unruly" like frizzy hair, which shouts "messy" and "unprofessional." That's not a nice look at all.
Causes
There is no particular source of the issue; it is just a hair type, like flat, greasy, or anything similar.
You can do certain things to worsen frizzy hair (details to come! ), but in general, you'll have to learn to deal with it if you have this issue. We're sorry to be the bearer of bad news, but there's no way to get rid of frizzy hair permanently. But don't worry, there are methods to manage it.
Maintenance
This problem requires the most consistent care of any hair type. If you let your purported style develop and fly free, it will become much more unmanageable than it is now – and no one wants that. Always do the following to offer yourself the greatest chance of taming your hair:
Trim your split ends at least once a month.

You may get this professionally done or do it yourself with a pair of scissors. Split ends may make the issue seem worse than it is, so keep this region clean.

Avoid low-cost deep conditioning treatments, shampoos, and conditioners.

Every few months, use an excellent, high-quality deep conditioning treatment. However, they may be less expensive, they seldom do much for your hair beyond an ordinary conditioner, and any positive benefits will fade the next time you wash it. On the other hand, a professional conditioning treatment will maintain your hair in better condition between usage.

Alcohol-containing hair products should not be used, so read labels carefully.

Alcohol-based hair treatments may assist in holding a style, but they will just dry out frizzy hair more.
Choose A Suitable Hair Style
Choose an easy-to-maintain style if you want to save time on upkeep. Longer is better. The length and weight of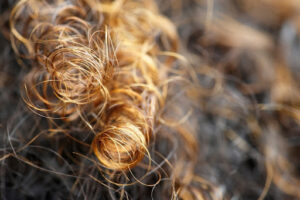 longer styles provide infinitesimal downward pressure to the roots, which may help remove the puffiness associated with this issue hair type.
Layers should be added – The more you separate your hair, the less likely it is that they will all join together and frizz out of control! Long, sweeping layers complement and are appropriate for this hair type.
Heat should be avoided – It may seem like a disaster waiting to happen, but avoid putting heat on your hair, which may mean saying goodbye to your hairdryer or straighteners. This kind of appliance dries out the hair, which exacerbates frizzing.
The hairdryer is the biggest offender since it harms both the health and look of the hair. Allow hair to dry naturally whenever feasible. If you absolutely must use a dryer, apply a heat protection spray or serum to prevent your hair from the damage caused by drying.
Excellent Hair Care – For Your Lovely Hair
Well, we all want beautiful hair since it adds spice to our personalities, and there are a few things we should keep in mind to help us get that additional edge and gorgeous hair. However, these suggestions are just suggestions, and you must act on them based on your particular requirements and needs.
Don't dye your hair all the time, and only use high-quality, gentle products.

Condition your hair regularly and use a conditioning treatment. Even if you don't have colored hair, schedule this treatment at least twice a month. Keep these coloring suggestions in mind.

Color treatment shampoo and conditioner should be used to wash your hair.

Blow drying your hair will cause it to burn. Do it only if it is essential, such as heading to a party or an important event.
A few coloring facts. 
Shampoo and conditioners of poor quality are harmful to hair. Companies have been doing extensive research on the products that are manufactured now for many years. They contain conditioner built in to maintain the hair healthy and shiny. However, it is essential to use the proper shampoo and conditioner.
Hair coloring is not restricted by age. Today's tenth-grade kids want to stay up with the newest fashions and choose to color or highlight their hair. On the other hand, coloring should be done by a professional stylist at a reputable hair salon.
Does frequent hair coloring cause cancer?
Despite what one hears about hair coloring causing specific malignancies, reputable companies have conducted a considerable study on the topic and concluded that hair color is harmless for the skin. You may dye your hair as usual.
Are shampoos and conditioners useful?
All reputable hair care firms provide shampoos and conditioners designed specifically for colored hair. These are designed to preserve the color of the hair, while moisturizers and conditioners keep the hair healthy. Use these items as well.
Because the natural hair oils on the scalps do not reach the ends of the hair, the hair at the root is always better nourished and healthy. As a result, choosing the appropriate conditioner and shampoo is critical. A deep conditioning treatment for the middle length and ends of the hair should be done at least once a week.
Why does frizzy, curly hair appear drier when dyed?
Frizzy, curly hair is drier than straight hair, even without color. Once again, choosing the proper shampoo and deep conditioning treatment is critical. Once the conditioner has been washed out, those with frizzy hair should apply a serum or leave-in conditioner.