Table of Contents
Essential Hair Products for Women
Hair is all over the place! In the media, in musicals, in commercials, on television, and, of course, in our minds. The way you wear your hair may reveal a lot about you. Do you like long, flowing hair or a short, daring 'do to show off your feminine side? Do you stick to your natural colour, or do you like to dabble with dip dyes or streaks?
Hair, regardless of your particular style, needs upkeep. There are many women's hair products to check out, and it may be challenging to determine which ones you need and which ones you can skip (and spare your wallet some effort!).
What follows is a list of essential hair products – items that may be used in various ways and should be a staple in every woman's beauty arsenal.
Hairspray
Hairspray is undoubtedly the most common item on this list. Hairspray is an essential component of every hair care regimen. There are, however, a variety of hairsprays available, each of which does a distinct task. For example, there are hairsprays designed to keep a hairdo in place and hairsprays designed to enhance volume and body. Hairsprays that add thickness to hair are also available. These hairsprays include ingredients that enrich the number of minerals in the roots of the hair, making it seem fuller.
Hair Gel
Hair gel has gone out of favour in recent years, or at least since the spiky 90s haircut fell out of style. However, some excellent, high-quality hair gels don't leave a greasy, wet residue in the hair and instead give structure and body to hair or control frizz in curly hair. It's essential to buy a high-quality gel since so many cheaper varieties result in "crispy" hair. In addition, a gel is beneficial to individuals with curly hair since it may help retain curl and keep frizz at bay.
Mousse
Styling mousse is an excellent method to get both grip and texture. Apply it to damp hair and blow-dry for maximum volume. Mousse, like hair gel, has a propensity to get brittle, so seek a high-quality mousse. If you have dry hair, avoid using mousse-containing alcohol since this may cause the hair to become brittle.
Pomade/Hair Wax
The texture of pomade or hair wax is thicker than that of the other items. Even though they are almost identical products, pomade typically includes some kind of oil and wax. These items are also known as sculpting clay at times. Hair wax is ideal for individuals with short hair who desire a messy, just-rolled-out-of-bed appearance or want to add a bit of a messy texture to their hair. Rub your fingers through your hair with pomade and tease with a comb. Finish with hairspray to provide a long-lasting grip.
Anti-frizz Serum
As the name suggests, this is ideal for curly or frizzy hair. It is a thick liquid that is applied to the hair to provide shine and body. These are silicone-based products used to smooth the hair shaft. If you don't have curly or frizzy hair, this product may clog it up.
Now that you understand some of the hair products on the market, you can make more educated choices about the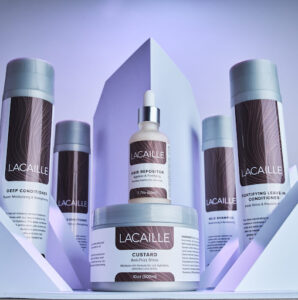 best care for all of that lovely hair. Show the world what you're up to!
Why use Beauty Products from Lacaille?
We aim to utilize our brand to empower women. Lacaille Beauty is a personal care business that believes that healthier ingredients promote better hair and skin. Lacaille Beauty will continue to develop a range of natural beauty products for all hair and skin types, with a strong focus on integrating organic components.
Lacaille Beauty's goal is to build a company that produces healthy goods and gives back to society and the environment.
Lacaille Beauty is dedicated to producing certified organic personal care products with sustainably derived ingredients meticulously collected to guarantee we utilize only the finest quality essences. Our formulas are created using high-quality components. We do not use synthetic substitutes that may damage your health or the environment.