https://www.youtube.com/watch?v=LU7Bds4O2DY
Welcome to LACAILLE!
Your one-stop shop for certified organically sourced hair care products for Women with beautiful naturally curly hair.
Shop Now
LACAILLE Beauty would like to introduce our new line of Hair Care Products!
While many of us do not even know how to name our lush "African hair", taming it and styling it can be just as challenging. Whether you rock an afro, straighten those beautiful curls, create an interwoven hairstyle, or you are on your natural hair journey, the goal is to love your hair and ensure that it's healthy.
This is where our natural hair care products can help you achieve your goal. Give your hair the treatment it deserves with our line of organically sourced hair care products. Our products are free of parabens, phthalates, mineral oil, petroleum and formaldehyde.
LACAILLE Beauty manufactures all our organic hair care products. We take great pride in using the highest quality ingredients possible in our formulations. Nature has provided us with elements for beautiful healthy skin. There is no need for synthetic agents that can harm your body and the environment. Our products include some of these natural elements to create our amazing line of hair care products.
All our products are infused with organic elements that have been proven to nourish the scalp with the nutrients needed to improve the health of your hair.
From washing to conditioning to styling, our products include: a super moisturizing shampoo, a leave-in conditioner, a deep conditioner, an ageless hair serum, an anti-frizz and shine cream and a vitamin pre-styling spray which will give you the most beautiful and healthiest hair a woman can ask for.
Come discover Lacaille Beauty Products!
Click on each of the products for a list of the ingredients, and a detailed explanation of how to use this product.
Our vision and philosophy
Our vision at LACAILLE Beauty is to produce a brand that not only creates healthy products but also one that gives back to society and the environment.
LACAILLE Beauty is committed to creating certified organic personal care products that contain sustainably sourced ingredient, that are carefully harvested to ensure we use only the highest quality essences. Our formulations are made of the highest quality ingredients. We do not utilize synthetic alternatives that can harm your body, nor harm the environment.
This black-owned beauty brand features a full line of hair care and daily skin routine products to embolden your every day look no matter where you go.
Learn More
OUR PROMISE
Safe And Uncompromising Beauty
We leave out these harmful ingredients:
No Parabens  No Phthalates  No Mineral Oil
No Petroleum  No Formaldehyde
OUR ETHICAL STANDARDS
We are natural, sustainably produced goodness. Made with love for your hair and your body. We strive to be sulfate free, paraben free, phthalate free and more, whenever possible.
Tested on our family and friends, never on animals.
Engineered to Make a Difference
With a heavy emphasis on incorporating organic ingredients being its root to results,
LACAILLE
cosmetics will continue to create lines of natural beauty products for all hair and skin types.
LACAILLE

BEAUTY IS A PERSONAL CARE COMPANY THAT BELIEVES HEALTHIER INGREDIENTS ENCOURAGE HEALTHIER HAIR AND SKIN.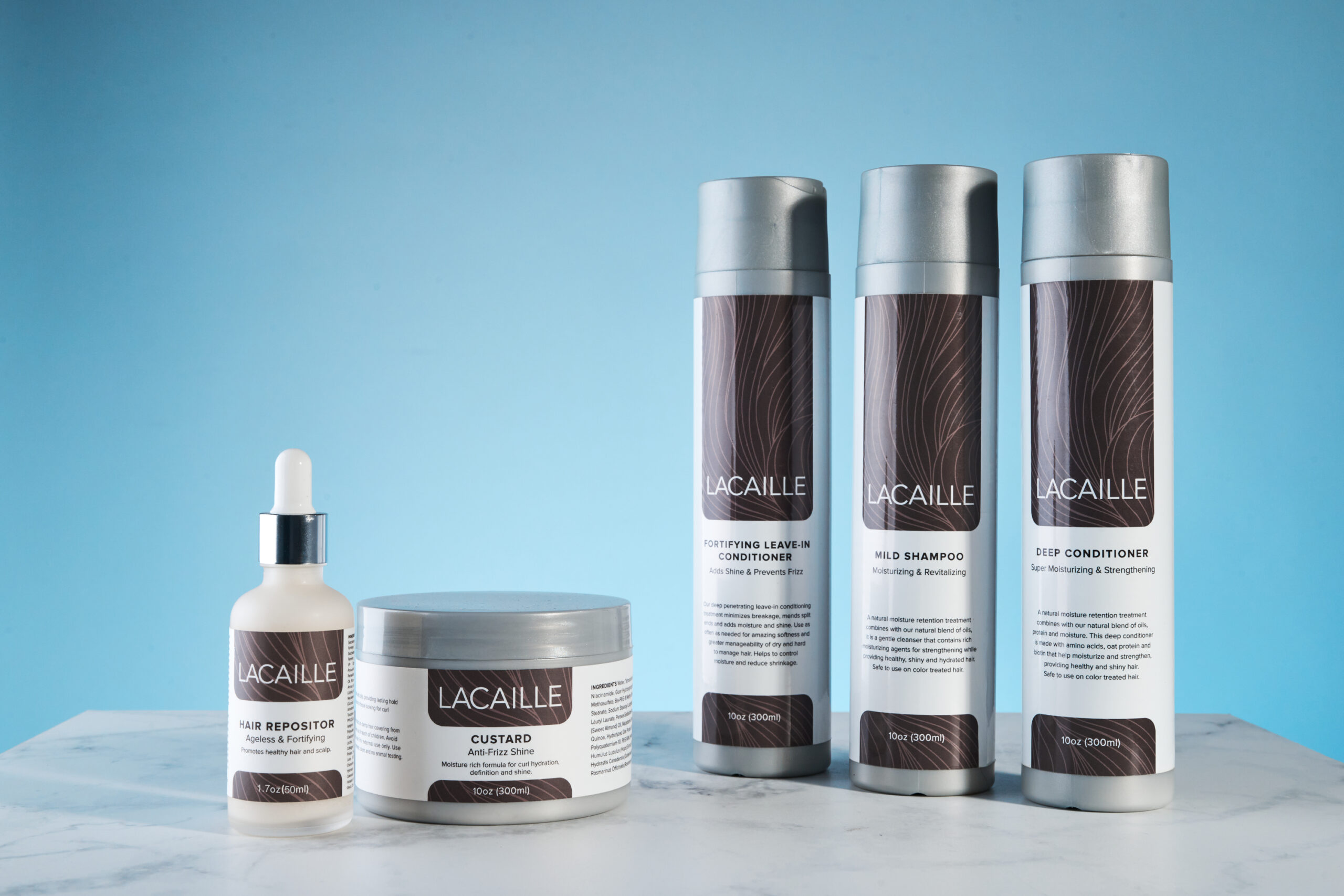 Exclusive beauty news, tips, deals, & more
from
LACAILLE

Beauty – right to your inbox!